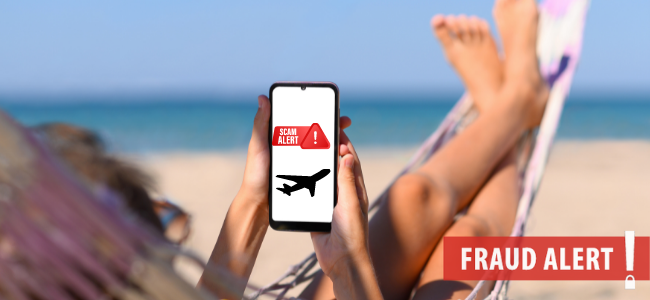 With a busy travel season fast approaching, it does not hurt to get a refresher on common scams to avoid as well as critical safety tips to keep in mind while out of town. From bogus travel booking sites to fake vacation scams, there is a lot to be mindful of when navigating the next few months.
Not-so-"free" vacations
Free vacation scams are a persistent complaint no matter the time of year, but they may appear particularly enticing during the summer holidays. Beware of unsolicited alerts that you have won a vacation via a sweepstakes you never entered. These offers only exist to steal your money, your identity, or both. Even contests you do voluntarily enter should be carefully scrutinized to ensure that you're not providing contact information to criminals.
Too good to be true getaways
Fraudulent booking agencies and websites for travel accommodations commonly prey on summer vacationers. These types of scams often advertise deals that sound too good to be true or utilize branding and naming that closely resembles (if not identical to) legitimate booking entities. Using one of these agencies or sites, you may think that you secured plane tickets for the July 4th holiday when in reality, fraudsters stole the money and your personal information.
Avoid "phantom rentals" on popular vacation rental platforms
Vacation rental marketplaces like Airbnb are becoming increasingly popular havens for scams. A typical scam involves a prospective owner pushing for you to pay outside of the primary website's platform or to provide them with personal contact information (neither of which Airbnb allows). Additionally, fraudulent postings often use unrealistic or manipulated photos and fake or incentivized reviews to advertise a non-existent—or subpar—listing.
Follow these tips to reduce your risk from scams this summer:
Scrutinize contests and rewards before entering. Unsolicited sweepstakes often only exist to extract personal information and money. Common red flags on a website include typos—especially in the URL – as well as unprofessional web design and an unusual number of pop ups and other ads. Search for third-party reviews about the sweepstakes (e.g. [sweepstakes name] and "scam"). If there's any doubt about the legitimacy of a sweepstakes, it's smarter to just steer clear.
Authenticate hotels, Airbnb's, and travel agencies. Similar to the point above, emails, websites, and other products of the suspect company may give clues as to their authenticity. Often, if you see a deal that's too good to be true, that's because it is.
Using trusted friends or media publications like Consumer Reports or the Better Business Bureau can be a safe way to find reputable listings.
Make purchases with a credit card. Credit cards have stronger fraud protections than debit or peer-to-peer payment platforms like Venmo, Zelle, or PayPal. Just be sure to dispute any suspicious transaction in a timely manner.
Take precautions when using public Wi-Fi. Unsecured networks allow other users on the network to view your internet activity. Avoid entering confidential information (such as financial credentials) and try to only access protected websites (beginning with "https") if you're on a public Wi-Fi hotspot. Many cell phone plans allow you to turn your mobile phone into a personal hotspot, which can be more secure than public Wi-Fi.
Don't let everyone know you're traveling. Especially if you live alone, this acts as a beacon to let intruders know your (temporarily vacant) home is an easy target. Save the social media posts for after you return.
Be an ally in the fight against fraud!
If you suspect that you or someone you know has become a victim of one of these scams or any other fraud, don't just delete the message — report it at once to the social media platform. You can file a complaint at Fraud.org via our online complaint form. We'll share your complaint with our network of law enforcement and consumer protection agency partners who can investigate and help put fraudsters behind bars.
https://fraud.org/wp-content/uploads/2022/05/Spring-2022-2.png
300
650
Fraud.org staff
https://fraud.org/wp-content/uploads/2020/10/FraudOrgLogo_gradientcolor.jpg
Fraud.org staff
2022-05-31 20:39:36
2022-05-31 21:34:10
Scammers don't take a summer vacation